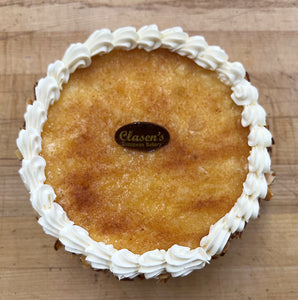 Apple Cider cake moistened with an amaretto simple syrup, then layered with vanilla buttercream and chopped apple pie filling. Finished with more apple pie filling, a dusting of cinnamon sugar, and toasted sliced almonds. Great for any fall gathering!
Small (7") serves 8.  
This torte is refrigerated. please store it in your refrigerator. For serving please allow it to come to room temperature for the best flavor.  We recommend  1-1.5 for a small depending on how warm your room is. 
This product
is available for In-Store Pick-up or Contactless Local Delivery
only.
We are unable to ship this product at this time.