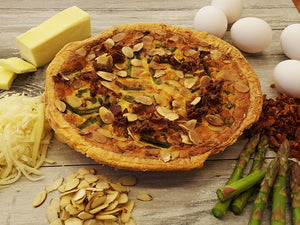 Our rich creamy quiche is filled with cream, eggs, swiss cheese, bacon, onions, asparagus, and seasonings then sprinkled with almonds and poured into an all-butter pastry crust and baked. 
Serving size 6-8.  If you are serving it as the main course or have hearty eaters, we recommend you slice it into 6 wedges.  If you are serving it as part of a brunch or have several side dishes to accompany it, we recommend 8 slices.
Reheating Instructions: Place it in a 350F oven for 20-30 minutes until heated through.
Please keep refrigerated at home. 
 This product is available for In-Store Pick-up or Contactless Local Delivery only. We are unable to ship this product at this time.